How to Apply
Begin your journey today.
Fall 2023 Applications
Apply to join the Georgetown SMP, or attend one of our monthly webinars to learn about postbacc programs and what Georgetown has to offer.
Submit Your Application
Applicants have the choice to apply through the Georgetown Graduate Application Portal or the Post Baccalaureate Centralized Application Service (PostbacCAS). Please do not submit applications to both.
Georgetown Graduate Application Portal: This application is recommended for students who are interested only in Georgetown graduate programs.
PostbacCAS: This application is recommended for students who are applying to multiple schools through PostbacCAS.
Application Requirements
The Admissions Committee for the Special Master's Program (SMP) in Physiology will only review applications when all admission materials are received, including letters of recommendation, transcripts from all previous universities attended and test scores. When the SMP receives your completed file, we will send you an email confirmation that your file is under review. After this time, please address your question to physio@georgetown.edu. If you have questions about items being marked as received on your application, please contact BGEAdmissions@georgetown.edu.
We are now accepting applications for Fall 2023. The SMP will start reviewing completed applications starting in October. Priority application deadline is May 15. Final application deadline is July 1. We encourage you to complete your application in a timely manner, so it is ready for review. Upon completion of the first review, if your application is accepted or placed on the waitlist, you will immediately receive an email. Please see the links for what to do if you are accepted or on the waitlist. If your application is denied you will receive a letter from the graduate school.
Application Checklist
4-year Bachelor's Degree & Prerequisite Courses
Grade point average of 3.0 or higher
Average cumulative GPA is 3.3
TOEFL/IELTS Score (if applicable)
TOEFL: Georgetown Univ. Code for BGE: 5244
IELTS: Georgetown Univ. Graduate School of Arts & Sciences
Application Deadlines
Priority deadline is May 15 for Fall admission*
Final deadline is July 1 for Fall admission
*International applicants are encouraged to apply by the May 15 priority deadline to allow sufficient time to apply for a U.S. visa.
For international students, the visa application process can take weeks or months and varies based on your country of origin. To help ensure that students receive their visas in time for registration, the program suggests that applications to the program should be completed by May 15 priority deadline. In the event that visas are not received in time, students may defer their admissions and delay their arrival to the following fall term with no additional charge.
BGE scholarship applications are due 14 days after submitting the program online application, regardless of admission status.
Additional Information
Prerequisite Courses
The SMP requires the same prerequisites courses as most US medical schools. 2 semesters of each of the following courses (including labs) are required:
Biology
Chemistry
Organic Chemistry
Physics
Biochemistry – highly recommended for application to the SMP and medical school (many medical schools now require it)
You can be completing these courses while you apply. All prerequisite courses need to be completed prior to the start of the SMP.
MCAT/GRE Score
MCAT Score Submission
Release your MCAT scores to the SMP. You may do so at any time via AMCAS's MCAT Score Reporting. To access this, go to the AAMC website and go to their "MCAT Scores" tab. Select "Get MCAT Test Scores" and then log in to your AAMC account. This will bring you to a page that displays your information and your "most recent MCAT dates". At the top of this page you will see a "My Reports" tab. Click it and a drop-down will appear. Please select "Send Scores Electronically". You will be brought to a Select Institutions page and here you can find the SMP listed as "Georgetown Master's Program Department of Physiology & Biophysics". Then click "Confirm and Release Scores". Check the boxes that appear in the disclaimer and then "Send Scores". You should also email a PDF of your score report to BGEAdmissions@georgetown.edu.
GRE Score Submission
Release your GRE score to the SMP. The Georgetown Univ. Code: 5244.
You should also self report all test scores in the Self Reported Test Scores section of the online application (official scores are required to be deemed complete).
Transcripts
Transcripts are required from every institution you have earned credits and grades, including both degree and non-degree coursework. This allows the admissions committee to have a more complete picture of your academic preparation for graduate study.
You must upload electronic or scanned copies of your transcripts (as detailed below) into the application portal for review by the admissions committee; do not order official transcripts to be sent directly to us from your institution(s) until you receive an official offer of admission.
An acceptable transcript upload is a copy of an official transcript produced by the institution. This includes:
Scanned copies of paper transcripts issued by the institution.
Electronic transcripts issued by the institution (not a download from your institution's web portal).
Transcript formats we do not accept include the following:
We do not accept screenshots or photos.
We do not accept downloads of the "student's view" from your institution's website.
Samples of Acceptable vs. Unacceptable Transcripts for Applications Submission: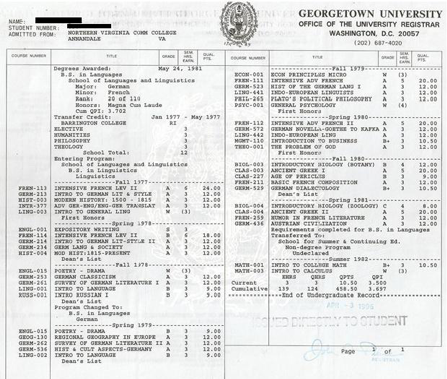 For Transcripts Not in English:
These documents must be accompanied by an English language version provided by the academic institution. If your institution does not provide English language copies, applicants are responsible for providing a certified or notarized translation along with a copy of the original transcripts. Applicants may upload an evaluation from a credential evaluation service. This must include course and grade information. If not included in the evaluation, the transcript from the institution must be included as well. Both the evaluation and original transcript should be submitted in the application as one document.
NOTE: Applicants who are offered admission will be required at that time to submit official transcripts for verification prior to enrolling.
For additional questions, please visit BGE Admissions FAQ.
Letters of Recommendation
The SMP requires a minimum (and maximum) of 3 letters of recommendation, OR you may use your undergraduate committee/composite letter. Letters written for application to medical school are acceptable. At least 2 letters should be from professors in science courses.
If you have a composite/committee letter:
Click on the "composite recommendation or letter packet" option in the LOR Choice section of the online application.
Enter the name and email address of the person/office that will be uploading your letter/packet.
Our system will email that person/office and ask that they upload your packet. If they are unable to upload the packet (for example, attachment is too large), they should email the packet directly to biomedgrad@georgetown.edu.
If using Interfolio to submit individual LORs, click on "three individual recommendations" option. For each recommendor, enter your letter writer's name and the unique email address generated by Interflio. Interfolio will then process the request.

Academic Statement of Purpose
There are 2 ways to satisfy the Academic Statement of Purpose requirement.
If you have a previous AMCAS/AACOMAS application

You do not need to write a new Academic Statement of Purpose
In this section, upload a document that reads "see AMCAS/AACOMAS"
In the "LOR Choice for Physiology & Biophysics M.S." section of the online application, you will upload a PDF of your previous AMCAS/AACOMAS application

If you do not have a previous AMCAS/AACOMAS application

Disregard the 500-word limit listed on the Graduate School application.
The academic statement of purpose should read like an AMCAS/AACOMAS personal statement. It should reflect you as an applicant to medical school and your motivation for medicine. (A traditional AMCAS/AACOMAS personal statement has a 5300 character limit).
Supplemental Information
There are 2 ways to satisfy the Supplemental Information requirement.
If you have a previous AMCAS/AACOMAS application

Upload a PDF of your previous AMCAS/AACOMAS application in the "LOR Choice for Physiology & Biophysics M.S." section of the online application.
If you have updates to your AMCAS/AACOMAS application, you may upload a document listing the new information in the Background and Experience section, under Resume/CV.

If you do not have a previous AMCAS/AACOMAS application

Upload a document in the Background and Experience section – Resume/CV listing ALL of the following information (bullet point or resume format are fine).
Overall GPA
Science GPA
Employment History (post-high school) – include position, responsibilities, dates of employment, total # of hours
Clinical Experiences (post-high school – paid and unpaid) – include position, responsibilities, total # hours
Non-Clinical Community Service (post-high school) – include location, responsibilities, total # of hours
Research Experience (post-high school) – include location, position, description, responsibilities, total # of hours
Extra-Curricular/Leadership Activities
Parent's Education/Occupation – provide parent's name, occupations and their highest level of education
Institutional Actions on Academic Record/Misdemeanors/Felonies. Please state "None" or list any actions and explain. Be sure to include what you learned from the experience. Moving traffic violations (speeding, accidents) are considered misdemeanors in many states. If you have a ticket(s), please check whether it is listed as a misdemeanor in the jurisdiction where you received the ticket. Also, if you have a pending court case, please indicate this, so we can advise you. (Note: if you have a court case during the year, and you are found guilty of a misdemeanor, you have to inform all the medical schools you applied to within 10 days of the judgment. Failure to do so can result in rescinding of acceptance.) If you have additional questions about institutional actions, etc, please contact an advisor at AMCAS.
TOEFL/IELTS Examination
TOEFL: Georgetown University Code is 5244. The minimum TOEFL score for admission is 80 (Internet-based test) and 550 (paper test).
IELTS: Select "Georgetown University Graduate School of Arts and Sciences." The minimum IELTS score for admission is 7.0.
All applicants are required to demonstrate a level of proficiency in the English language sufficient to meet the admission requirement of the Graduate School of Arts and Sciences. Proficiency can be demonstrated by the receipt of a bachelor's or advanced degree from an accredited institution of higher education in the United States or from a university where English is the primary language of instruction (please note that applicants receiving degrees at universities in U.S. territories, such as Puerto Rico, are required to submit the TOEFL or IELTS unless the primary language of instruction at the institution is English).
Waitlist
This is a good thing! Because of the competitive applicant pool for The SMP, many of our accepted students are subsequently accepted to medical school before matriculating in our program. This opens seats, which we immediately fill from the waitlist. We do ask you to be patient– we will continually review waitlist applicants for acceptance up until the start of classes.
Send us updates of your spring grades, and new MCAT scores if available, this will help us with our decisions.
We will be contacting you periodically with information. Please respond ASAP.
If you are accepted to medical school before coming, congratulations, and please send us an email stating that you wish to withdraw your application.
If you are on the waitlist in late July/early August and are sure you will come if accepted, please let us know, as this will put you in our final select pool.