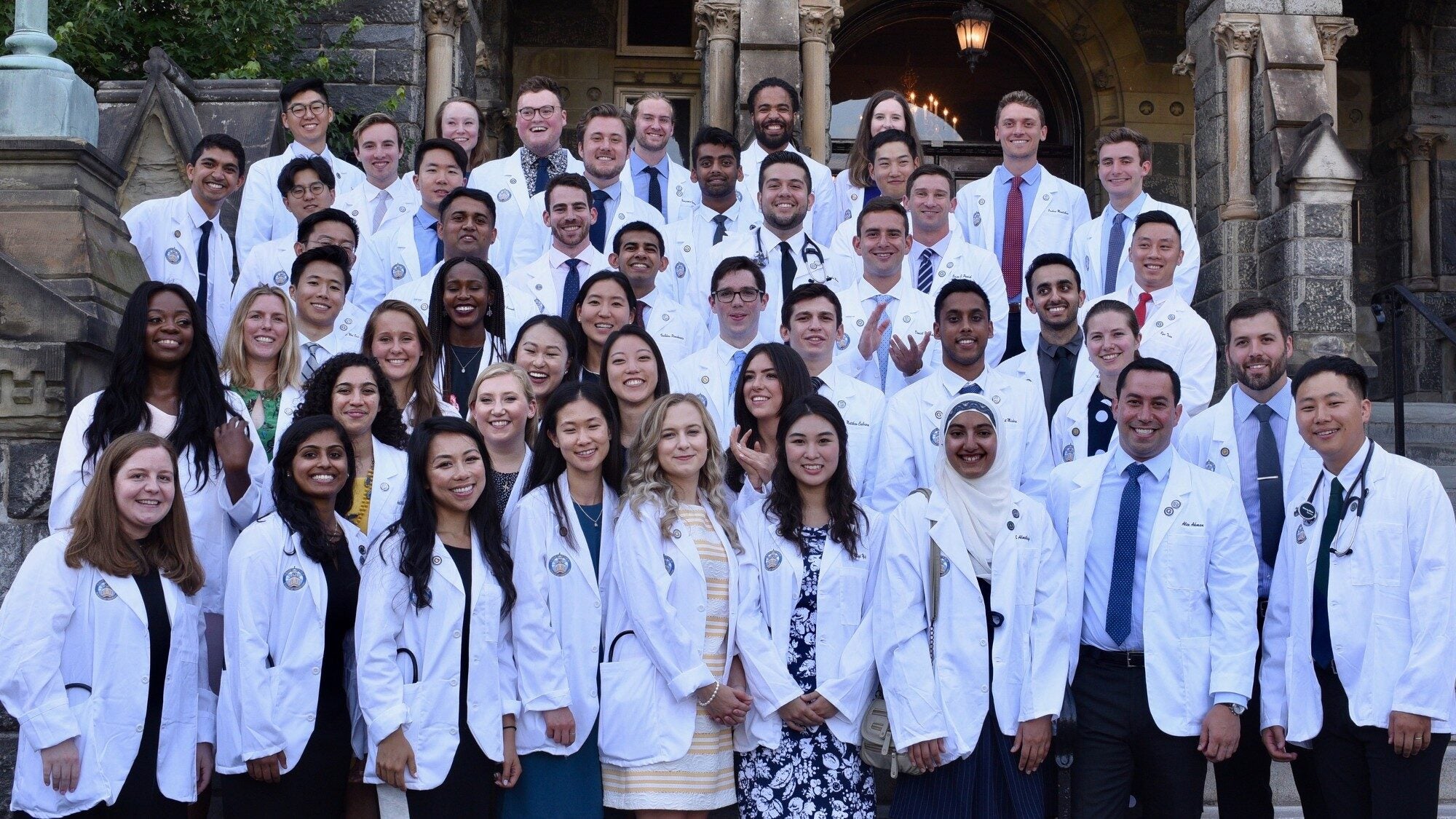 ~85%
of our students are accepted into medical school
~50%
are accepted while enrolled in the SMP
Georgetown School of Medicine Admissions
Many SMP students apply to Georgetown School of Medicine (GUSOM) while in the program. The SMPs are pulled out of the general applicant pool and are reviewed separately. GUSOM highly values students from the program and typically interviews half of the class. Of those interviewed, typically half are offered acceptance.
Beginning with the 2023-24 cycle, GUSOM no longer consider international applicants for admission. Applicants must be U.S. citizens, hold a permanent resident visa, or be eligible for the Deferred Action for Childhood Arrivals (DACA) process of the U.S. Citizenship and Immigration Services at the time of application. All applicants must provide the appropriate documentation which would include submission of a U.S. birth certificate, U.S. passport, U.S. permanent resident card, Form N-550, Certificate of Naturalization, or other documentation to show asylee, refugee or DACA status.

International SMP students currently enrolled in the program (2023-24 academic year) are eligible to apply for admission to the School of Medicine in the 2024 cycle only, upon successful completion of their program. 
Year
GUSOM Applicants
from SMP
Interviewed
(% of Applicants)
Accepted
(% of Interviewees)
Matriculants
2022
91
43 (47%)
22 (51%)
22
2021
121
60 (50%)
32 (53%)
32
2020
157
67 (43%)
32 (48%)
31
2019
143
74 (52%)
35 (47%)
35
Medical Schools
The majority of our students go on to attend medical school. The list below shows schools to which our alumni have matriculated in the past 10 years. (The list does not include schools to which alumni were accepted but did not choose to attend. Over half of our students are accepted by multiple schools!)
We do our best to keep in contact with our alumni, and we construct this list based on our communications with them. The list is not complete because we sometimes hear later where alumni have enrolled.
Alumni Testimonials
Read quotes and stories from some graduates to learn about the academic and professional impact the SMP has on our students.
Support the Program
Help us to teach the next generation of medical experts.